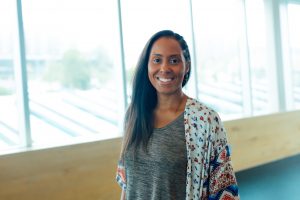 Nova Scotia's Tasia McKenna is the commissioner of the MWBA
She's a teammate, a selfless individual with vision and a remarkable zest for basketball and its nuances.
Those are just a few characteristics when it comes to describing Nova Scotia's Tasia McKenna.
She will certainly bring a foundation of strength and leadership with a mission focused on gender and racial equity as McKenna becomes the first commissioner of the Maritime Women's Basketball Association, set to open in the spring of 2022.
The MWBA, preparing to run a 12 to 14-game regular season and championship weekend from late April to June, has six potential franchises with the possibility of more as word continues to spread about the fledgling circuit for women 19 and over.
The league is expected to feature a number of present-day U Sports, Canadian Collegiate Athletic Association, Maritime professional players along with former players.
McKenna is a former elite athlete and basketball star, who is now the Technical Director of Basketball Nova Scotia.
She can't wait to get going with the MWBA.
'The MWBA was an idea that caught my attention early and the more we are delving into the creation and foundation of its design, it's an exciting initiative that I wanted to be a part of right away,' said the Timberlea native. 'It's a league that will offer competitive play, promote female basketball from players to coaches to officials and minor officials and beyond. It's something I certainly wish existed when I was playing.'
McKenna was a Nova Scotia stalwart on the court growing up, a two-time MVP of the Division I Metro League in Grade 11 and 12 with Halifax West and Queen Elizabeth. She played a key role on Nova Scotia's bronze medal winning team at the 2005 Canada Summer Games in Regina, SK, and the accolades started to pour in off the court, named in Nova Scotia Resolution NO. 5342 during a sitting of the House of Assembly recognizing her for "representing the province competing in women's basketball against the strongest athletes throughout Canada, and the commitment it takes to perform at an elite level."
She would go on to have a memorable career in Thunder Bay with Lakehead University where she played five seasons from 2006 to 2011 with the Ontario University Athletics' Thunderwolves.
She was a four-time MVP at Lakehead, OUA all-rookie team, three-time league all-star, three-time female athlete of the year at her school, Consummate Player of the Year in 2010-11 and was the team's all-time leading scorer when she graduated.
McKenna also earned significant recognition as an OUA Woman of Influence in 2010-11, OUA Sportsmanship Award the same season and was rewarded with her scholastic commitment by obtaining a double degree with an Honours Bachelor of Kinesiology and a Bachelor of Arts.
'I realized early at Lakehead how much the game meant to me, but I also wanted to make sure I wasn't going to be recognized as only an athlete,' McKenna said. 'There was so much opportunity and I wanted to take advantage of that in the classroom and on the court.'
So much of her success involved giving back when she returned to the Bluenose Province.
McKenna jumped right into things, taking the reins with various community basketball programs and then coaching at the interscholastic level. She would be an assistant coach at the 2013 Canada Summer Games before paying her dues at the under-14 and under-15 levels prior to the 2017 Canada Summer Games head coaching experience in Winnipeg.
Somehow there was time to run her own business called Crossover Basketball for two years. She is also entering her seventh season as an assistant coach with the Saint Mary's University Huskies at the Atlantic University Sport level, highlighted by two conference crowns and a national bronze medal in 2016.
Throughout that time, McKenna earn her Competition Development (Train to Compete) basketball certification through the National Coaching Certification Program, International Basketball Federation (FIBA) Coaching License, and recently became a Chartered Professional Coach through the Coaching Association of Canada (CAC.).
She became the first female and African Nova Scotian Technical Director and Performance Coach for Basketball Nova Scotia, a position she has held since 2016.
McKenna is a vocal advocate for gender and race equity and has been in demand as a panel and guest speaker during some truly turbulent times.
She has presented at race and gender symposiums with Basketball Nova Scotia, Canadian Sport Centre Atlantic, Valley Female Leadership Network, Mount Saint Vincent University and Saint Mary's University women's soccer teams, and Athlete Transitions based out of British Columbia.
Those engagements fostered the growth of her network with social changemakers across the country and has led her to join the Black Canadian Coaching Association (BCCA) as the Atlantic University Sport Coach Representative, Young Women's Christian Association of Halifax Community Programs, Sport and Recreation Inclusion Lead (formerly WomenActive Nova Scotia), Sport Nova Scotia's Women and Girls Task Force, Coaching Association of Canada Black Female Coach Mentorship created by the BCCA and the Black and Indigenous Coach Mentorship Program through Sport Nova Scotia.
'Sports and basketball have opened so many avenues and although it wasn't easy at first to step out of a certain comfort zone and become a voice, my background has made it easier,' she said. 'Basketball has been a focus in my life because it has created so many opportunities. My inner circle of family and friends are my guiding compass. They keep me grounded and are a daily reminder of what is most important in life.'
McKenna is anticipating naming the remainder of the MWBA executive over the next several months as the league continues to build its brand and purpose to highlight women's basketball.