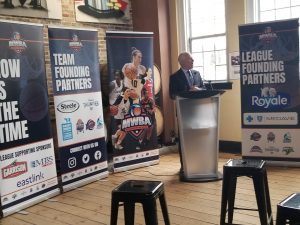 It is truly a remarkable taste of the Maritimes.
Maritime basketball, meet Maritime beer.
The Maritime Women's Basketball Association unveiled its founding sponsors and also celebrated International Women's Day at Garrison Brewery in Halifax.
Garrison brewed its own MWBA Courtside beer in celebration of the league and its commitment to women in sport in front of over 100 people.
League founding partners Royale and Medavie were also on hand for the launch.
Courtside, an ISA, was brewed for International Women's Day in collaboration with the MWBA. As a proud partner, Garrison Brewing will donate 50 cents from every can to the MWBA.
Pairs best with dropping dimes, deep threes and taking it to the hoop! Light in colour, pale straw. This ISA is a sip of sunshine. Light in colour and slightly hazy. Nose is of bright lemon, stone fruit, grass & sweet malt. On the palate, expect light citrus notes and a mild bitter finish. 
'The entire day was hours of celebration of the MWBA, our founding partners, Garrison Brewery, Courtside and so much more,' said MWBA commissioner, Tasia McKenna. 'The support from all our partners is remarkable. We cannot wait to get the league started.'
The MWBA opens its inaugural season May 14 and 15 in Fredericton with all six teams attending.
League teams are Fredericton Freeze, Moncton Mystics, Port City Fog of Saint John, Windsor Edge, Halifax Hornets and Halifax Thunder.