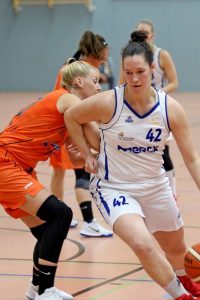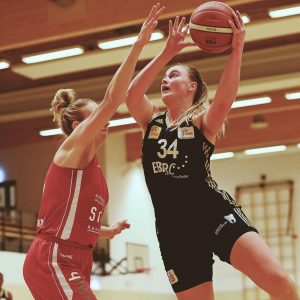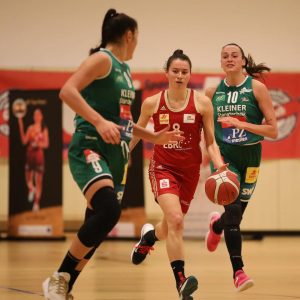 Kaylee Kilpatrick, Hannah Brown and Tessa Stammberger have enjoyed European pro careers.
Drive, intensity and a competitive fire that burns in any pursuit they tackle.
Those are certainly three characteristics that identify a trio of remarkably strong women from the Maritimes, who have turned basketball into a way of life.
There's a solid chance all three will be part of something else special…suiting up in the Maritime Women's Basketball Association.
Nova Scotia's Hannah Brown and Tessa Stammberger and New Brunswick's Kaylee Kilpatrick have all taken their basketball prowess and zest for competition further than many in our region, parlaying outstanding university careers into professional pursuits.
And all three are excited to follow the MWBA and its gallop towards opening play in the spring of 2022 with six teams.
Brown and Stammberger are actually teammates in Germany, playing with TK Hannover. Kilpatrick would have played in Germany again this past season, but COVID-19 kept her home. She had a long pro career in Germany, Ireland and Australia.
Brown, the North Sydney native who starred with the Cape Breton University Capers for five seasons in Atlantic University Sport, amassing 1,194 points and 12.1 points per game with her hometown school. She also grabbed 692 rebounds as a force in both paints, earning first-team All-Canadian honours, AUS MVP and two-time conference all-star accolades.
She loves the idea of the MWBA.
'This is a great opportunity to play competitive basketball with some old teammates, but it's also a great chance to play alongside some upcoming talent within the university leagues,' said Brown. 'It helps athletes stay in shape during the off-season months, making the transition back to schools a seamless process.'
Brown also believes too many women are finishing their competitive careers early and don't have an outlet to continue playing at a high level.
'Many athletes from the Maritimes are faced with the hard transition out of their athletic career sooner than they are ready,' she said. 'Letting go of something that has bee a huge part of your life isn't easy. This league will give people the chance to continue playing if they choose.'
Stammberger, who spent five seasons with Dalhousie University Tigers before turning pro, is another fan of the MWBA initiative.
She logged 2,861 minutes as a Tiger, scoring 1,210 points, earning USports rookie team and first team AUS all-star twice in her productive career.
Stammberger, in her fourth German pro season, has already registered on the MWBA player portal and is keen on watching the league's development.
'I'm very excited to see the planning and development of the MWBA and I love the idea of playing with and against former teammates or opponents of mine,' Stammberger said. 'We all know staying in basketball shape can only be done by playing in actual high-level games.'
Stammberger acknowledged Brown's assessment of careers ending prematurely.
'It's unfortunate that female basketball players do not have many opportunities to continue playing after university or college careers,' she said. 'As athletes, we learn and develop constantly, and at the end of our university career, many of us are playing our best basketball. It's a sin to have to stop playing when eligibility runs out. The MWBA would allow us to showcase the talent that is still very much present after university basketball, as well as allow us to continue to develop our game. Additionally, when I was a university player, I would have greatly appreciated the opportunity to play with and against older, former university, and professional players. There is so much opportunity within this league.'
When Stammberger looks at the league executive, sparked by commissioner Tasia McKenna, she sees a chance for women to make a leap with the creation of the MWBA.
'Having a league heavily led by women provides a great example for young adults throughout the Maritimes,' she said. 'It's very empowering to see the representation of women in leadership in sport programs, and I know it will inspire others to see that as possible for themselves as well. Seeing and recognizing the women who are already in the forefront organizing the MWBA shows me the league will be well organized and highly cared for.'
Kilpatrick has made New Brunswick proud on numerous levels.
Her post-university career has landed her in three countries during the winter months to play the game she grew up loving, rising to prominence at Harbour View High School in the Port City before embarking on a standout four-year National Collegiate Athletic Association career with the University of New Hampshire Wildcats.
Although she opted to stay in New Brunswick this season instead of returning to Germany during the pandemic, Kilpatrick is amped about the creation of the MWBA.
With her hometown Port City Fog in the circuit, Kilpatrick could play in front of family and friends for the first time in ages.
'I'm so excited by the growth and interest in the MWBA and hope to see the momentum continue,' said Kilpatrick. 'When I first I heard of the league and its intentions, I thought of all the great players around the Maritimes that are going to benefit from the league as either an off-season training opportunity or as a chance to continue playing. The MWBA is going to help promote the sport and hopefully inspire more young girls to play and get active.'
Kilpatrick, outside of the odd Basketball New Brunswick Summerfest tournament experience, hasn't played in Saint John since departing high school.
She played at New Hampshire from 2011 to 2015, appearing in 111 games with the Wildcats. Kilpatrick started 74 times, averaging 7.1 points per game and recording 130 blocks.
Excelling on the court and in the classroom, she then turned professional, starting in Ireland before moving to Australia. She was expected to play her third season with SG Weiterstadt in Germany before the pandemic.
Kilpatrick said the MWBA is something that will definitely find an audience in terms of players and fans.
'The idea of the MWBA is something that's been missing and will be a great location assuming pro and university coaches allow out of season games for their players and the players don't have to rest injuries,' she said. 'It's just as important for many women to continue playing at a competitive level after their university careers are over.'
Kilpatrick felt the proximity of team locations, the abundance of university and collegiate programs and even players who attend school outside the Maritimes will have a chance to play during what is usually a slower time of year during the elbow season of April to June.
The MWBA's six teams include the Fog, Fredericton Freeze, Moncton, Windsor Edge, Halifax Thunder and Halifax.