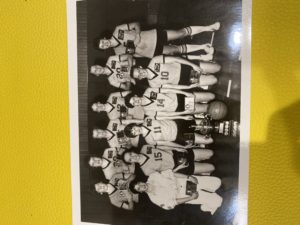 The Maritime Women's Basketball Association's Legacy Cup championship unfolds this weekend at TD Station in Saint John.
The three-day event will feature seven games concluding with the title game Sunday at 3 p.m. on the big stage.
But there's also another stage being set as the league celebrates women in sport.
Two teams – and potentially more – will be honoured for past exploits during Saturday's semifinal games at 5 p.m. and 7 p.m.
All for outstanding work in the early 1980s.
Teams representing New Brunswick and Nova Scotia will be highlighted for their national senior women's basketball championship titles.
New Brunswick captured the Canadian crown in 1980 in Winnipeg and two years later, Nova Scotia won a national title in Fredericton.
'We wanted to do something special for those who came before us and once basketball people start talking, you never know where it's going to lead,' said MWBA commission, Tasia McKenna of Nova Scotia. 'Once the New Brunswick story came about, the Nova Scotia championship wasn't far behind. It was a different time back then, but neither national championship team was ever formally recognized for their incredible feats. We want to rectify that.'
All players, coaches and managers from those teams are invited to TD Station to watch the games free of charge, guests of the MWBA, host team Port City Fog and Basketball New Brunswick which has graciously donated a private suite.
And as the old television commercials used to say, wait, there's more.
If you played, coached or managed a Canada Summer Games' team in either province or your team won a USPORTS or Canadian Collegiate Athletic Association national medal, you and your team are also invited to attend the semifinal games. If you played for a national wheelchair basketball team or won a national medal, you're invited.
'We truly hope this becomes a sort of reunion for many and what better way to celebrate it by watching the MWBA playoffs,' said McKenna. 'It's incredibly exciting to think we could be the reason for people to get together again. We know many of the players who could come have watched our games live or through live stream, but to be there this weekend will bring it to another level.'
If you or your team wishes to attend Saturday's semifinals – and be together to salute to national championship teams – please fill out the link below.
https://docs.google.com/forms/d/e/1FAIpQLSfKrK3Z_kiGuqGVTrWBoGSFum48zPNCCKzQTnOe3rTpkSqB5Q/viewform