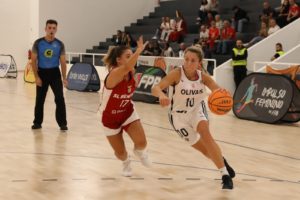 Karissa Kajorinne is returning to Portugal for her second year of professional basketball.
The offensive-star with the Maritime Women's Basketball Association champion Halifax Thunder re-signed with Olivais in Portugal, the team she broke into the professional ranks with in 2022.
Kajorinne appeared in 22 games last season with Olivais, which plays in a 16-team league. The team is in the North Division along with Cantanhede, CLIP, Coimbroes, CPN2, Maig, Sanjoanense and Vagos.
She averaged 13.7 points per game with Olivais, earning a career high 31 points on Nov. 11 against CDEFF. Kajorinne added 28 steals and 82 rebounds.
The Ontario product finished second in MWBA scoring this past season, producing 17.1 points per outing. That total had her just behind league MVP Kaylee Kilpatrick of Saint John's Port City Fog, who checked in with 18.3 per game.
Kajorinne joins former Carleton University Ravens player Emma Huff as the two Canadians on the Olivais roster.
The MWBA will have at least two pros to watch during the 2023-24 season.
Sophia Widmeyer of the Halifax Hornets made her pro debut earlier in August with the Dublin Lions in Ireland.
– Karissa Kajorinne returns to Portugal for her second season. (Olivais Basketball Photo); Main MWBA story photo – (DWinston Photos)