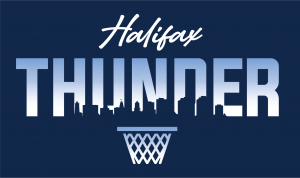 Halifax Thunder and Moncton Mystics tipped off the first-ever Maritime Women's Basketball Association Saturday afternoon.
It was a neck-and-neck battle through the first half, before the Thunder pulled ahead, extinguishing a late Moncton push to post an eventual 83-63 win at Leo Hayes High School in Fredericton.
A crowd of approximately 135 took in the game, the first of three on the day.
Port City Fog of Saint John and Windsor Edge are battling in the early evening game and hometown Fredericton Freeze play Halifax Thunder in the nightcap.
Haley McDonald, the dynamic guard with Acadia University Axewomen of Atlantic University Sport, did what she usually does in a game.
McDonald knocked down 25 points to pace Halifax and all scorers. Justine Colley-Legere, the former Saint Mary's University Huskies' standout star and former national team member had 16. Laura Langille sunk 11.
Jenna Jones, who played four seasons with University of Prince Edward Island Panthers, powered Moncton with 13 points. Lindy MacDonald sunk a dozen and Emile Turmel had eight.
Halifax held a 45-32 lead at halftime.