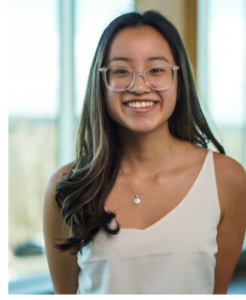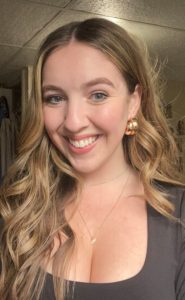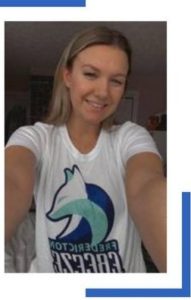 L-R – Anna Lee LeBlanc, Katie Harding & Allie Dawe
Anna Lee LeBlanc was taking notes in a class at the University of New Brunswick with a guest speaker who was brought in to talk to kinesiology students about the possibility of the Maritime Women's Basketball Association coming into existence.
She was taking notes and paying attention.
The speaker was MWBA founder Brad Janes of Fredericton and LeBlanc didn't take long to reach out with an idea.
She wanted to be involved somehow, some way.
LeBlanc certainly became involved.
The Moncton native, who graduated from UNB last year and is pursuing her Master of Arts in Management and Leadership in Kinesiology (Sports Management focus) at the University of Western Ontario in London, jumped on board the MWBA in a big way.
LeBlanc took over as the league's first-ever social media director and her work behind the scenes was a huge reason why the MWBA enjoyed so much success in its inaugural 2022 season.
That success continued this year under the work of Katie Harding, who was recommended by LeBlanc and also has a story of her own to tell. The success story goes even further when Allie Dawe was named social media manager of the MWBA's Fredericton Freeze.
All three women have outstanding stories to share through their connections with the MWBA.
Her work with the MWBA spawned numerous opportunities for the energetic LeBlanc, who is working as a marketing intern with the Canadian Elite Basketball League, earning laurels with that successful organization and earning more experience at the professional level.
'I definitely have used the skills I applied to my MWBA role in my current role with the CEBL,' said LeBlanc. 'Everything from social media content ideas to understanding how to manage social media accounts, creating graphics, branding guidelines, and what game-day deliverables might look like for different sports organizations. My work with the MWBA also taught me to work within deadlines, how to plan ahead, and how to execute key tasks within the sports world. As well, I got hands-on experience regarding sponsorship and how it affects marketing.'
It's not easy keeping up with day-to-day operations at the professional level.
Heck, with today's social media focus, it's hour to hour, maybe minute to minute.
Are you ready for these duties?
Go…
'My roles with the CEBL change on a day-to-day basis,' she said. 'I'm responsible for game-day social media posting throughout the season, non-game day social media posting, media distribution, content creation ideas, website posting, uploading game highlights to our CEBL+ channel and mobile application, clipping highlight videos with a highlight video software (Clipro), uploading, retrieving, and tagging photos from Dropbox, updating FIBA Organizer, and much more,' she said. 'I also support my supervisor with other daily tasks as requested. Our social media platforms include Instagram, Facebook, Twitter, TikTok, Threads, LinkedIn, and our mobile application. Throughout my role, I mainly focus on Instagram, Twitter, TikTok, and Threads.'
She still has time to study and go to the gym, but that's LeBlanc.
She carries an inner drive.
'When I'm not responsible for game-day posting I am normally working nine to five and completing some tasks such as Dropbox photo tagging, updating FIBA Organizer, and clipping video highlights,' she said. 'We also push out a lot of content on non-game days to curate engagement and excitement on our social media platforms. On our assigned game days we're up at 8:30 am to post our pre-game social media content, complete our media distribution, and post the game previews on the website. We are also communicating with both team staff via Slack.'
The CEBL is in its fifth year of existence and making remarkable inroads with its 10 teams. The franchises include Vancouver Bandits, Edmonton Stingers, Calgary Surge, Saskatchewan Rattlers, Winnipeg Sea Bears, Brampton Honey Badgers, Scarborough Shooting Stars, Niagara River Lions, Ottawa Black Jacks and Montreal Alliance.
It's never a dull moment, but social media plays a critical role.
She gets to bed a little later than her days covering the MWBA.
'If we have games that start at 11:00 pm Eastern Time, I'm only going to bed around 2:00-2:30 a.m., but it's something I truly enjoy,' she said. 'It's given me a realistic glimpse of what it takes to work in the sports world, how to potentially balance my lifestyle differently, and how to put my best foot forward each day.'
Hard to believe a year ago she was in MWBA gyms firing out content.
'Getting involved with the MWBA was all about representation and the values the league represents,' LeBlanc said. 'I love the quote: "Bigger than basketball" because I think it applies well to the MWBA. The league is inclusive and it is a change-maker in the Atlantic provinces and beyond. I wanted to be part of an organization that values female leadership, builds leaders, and showcases women and women's sports. You can tell by the league fanbase that it's not just women watching our league, it's fathers, young children, grandparents.'
Diversity is also high on LeBlanc's list.
'I also thrive to represent other people of colour within leadership roles because it's easier to 'be what you can see,' she said. 'Paving the way for others takes bravery, courage, and fearlessness, and I hope to inspire those around me to channel these feelings into all their endeavors because purpose fuels passion and passion never fails you.'
For Harding, handling multiple roles was something that unfolded this year.
She was recommended to the MWBA by Basketball New Brunswick's executive director.
Tyler Slipp had hired Harding to provide social media for BNB and when her term ended, it allowed her to jump aboard the MWBA ship.
During her term with the MWBA, she re-located from Fredericton back to her native British Columbia to work for Lacrosse BC., while still handling league stories despite a four-hour time difference.
Harding has parlayed that into a full-time position with Oilers Entertaining Group, which operates the National Hockey League's Edmonton Oilers and numerous other sports and entertainment entities.
She graduated from UNB with a Bachelor of Recreation and Sports Studies, majoring in management with a minor in business.
Harding is the new coordinator of Community Relations and Social Media for the major junior Edmonton Oil Kings of the Western Hockey League.
Quite a ride.
'I will be forever grateful to the MWBA group and the opportunity that has helped me pave the early steps in my career,' said Harding, who is originally from Kelowna, BC., but also carries Maritime traditions with her now. 'Being able to surround myself with – and collaborate with individuals who care so deeply about sports and the development of sport within their communities furthered my passion for working in sports. The MWBA gave me the experience to not only apply my knowledge, but to learn and grow in an organization that shares my values.'
Harding was in constant touch with Janes, MWBA commissioner Tasia McKenna of Timberlea, NS, and the MWBA's public relations firm Sports and Entertainment Atlantic of Halifax to ensure consistency, messaging and results.
'There was so much support from the league when I started at the beginning of the 2023 season,' she said. 'I'm extremely thankful for the opportunity the MWBA gave me. The experience has set me in the right direction for continuing my career in sports.'
For Dawe, the work with the MWBA and Fredericton entrant gave her free license to be creative in promoting the league, the team and its players.
She has gone from UNB – graduating with a degree in Kinesiology Sports and Recreation with a minor in administration focused on marketing – to working for Moosehead Breweries in its marketing department, promoting numerous labels and more.
'The Freeze provided me with the opportunity to apply my skills in curating and strategizing content, increasing followership, and promoting the team's brand,' said Dawe. 'Working with the Fredericton Freeze enabled me to collaborate with a specific organization, leveraging my capabilities to enhance their online presence while learning from their marketing and communication experiences I came across.'
Dawe enjoyed the freedom and numerous intangibles the MWBA has developed its reputation on after only two years of operation.
'I became more confident in my abilities with content creation, especially after seeing how well the social media posts had done in terms of engagement,' said Dawe. 'The MWBA is truly a great place for anyone looking to get into social media. It's a very welcoming group that allows a lot of freedom to create what you like.'
For MWBA commissioner Tasia McKenna of Timberlea, NS, the success of the three women is inspiring.
'We tend to look at the teams, the players and the coaches, but the MWBA was created to provide so many opportunities for other positions,' said McKenna. 'Whether officials, minor officials, coaching and more, there are so many success stories. To see Anna Lee, Katie and Allie all flourishing and using the MWBA as a stepping-stone to further their careers is another chapter for our league's book. We are incredibly proud of them.'